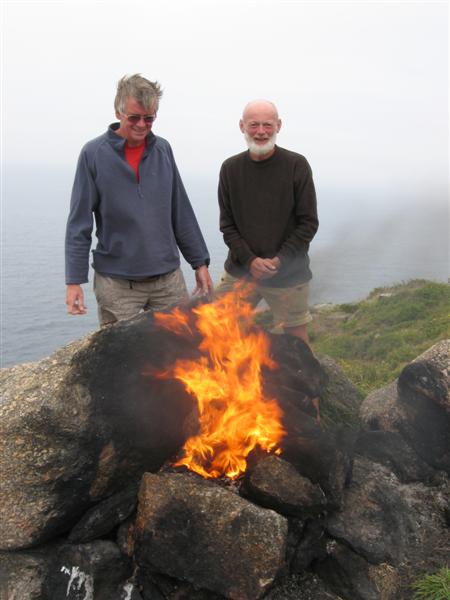 08.09.08 Monday.
San Pedro Martir to The Lighthouse Finisterre.
Our last day, back to the Chapel of San Pedro where the marquees were still up but deserted, the chapel still locked and only a fountain that didn't seem worth taking shoes and socks off for. But the light as dawn was breaking was excellent and the multiple levels of cirrus clouds were lit by the pink rays of the early sun with, as the guidebook said, panoramic views over to the Cape Finisterre. The route followed the coast road in several places after descending into Cee, the local main town, and gently rose and fell over the two headlands prior to the beach at Finisterra. En route we met a man tending the apples in his orchard. He gave us some small peaches which were windfalls from his trees and talked about how the apples from his orchard were sent to Asturia to be turned into cider. The Somerset pilgrim was able to say that he also came from a big cider making region but there the stilted conversation stopped. We stopped for coffee at the camp site we had being staying at and reached Finisterre lighthouse about 1445 after a good lunch in one of the many little restaurants in the town. As we arrived pathetic fallacy again took over and after a fine morning the wind and rain picked up, nonetheless your stout hearted pilgrims climbed down the cliffs to the place where countless others have burnt their clothes and other items, and burnt our shoes that have stood the rigours of the Camino fairly well since their purchase in Lourdes, but were now becoming very well worn.
After getting our final sello (stamp) from the lighthouse, we returned to Finisterre pilgrim albergue to receive our certificates to mark the completion of the walk out to 'The End Of The World'.
Jane adds: it's very nice to have my husband back, after all that walking. Even better that he should burn the shoes, as I'm not sure I wanted to share the tent with them for any longer!
This will be the final post to this blog site ('thank ****** for that' cries out our loyal readership!).
We have not formally attempted to do any fund raising on this trip, so if you would like to applaud our efforts, please make a suitably sized donation to a charity of your choice.
Buen Camino!