Wainwright was not very complimentary about the next section of the walk, through the Vale of Mowbray. He comments "If you are fond of placid rural scenery and have an interest in farming, you might enjoy this section…" Later he warns "Don't bother to clean your boots before leaving Richmond. There is mud glorious mud ahead." The terrain will be fairly flat and there is a deal of road walking, but hey you have to get to the next highland area (North York Moors) somehow. You just have to take the rough with the smooth… and this is the smooth. Anyway, we are attacking it in two bits, rather than going straight to Ingleby Cross, which would have been 23 miles. Never underestimate the effect of walking EVERY day. It takes its toll, and I am glad we decided to break it up.
We set out from Richmond passing underneath the Castle on the opposite bank of the Swale. Through some playing Fields, past a sweet little terrace of houses, along the main road, then turning in via the sewage works. Classy. But then we bid civilisation goodbye, turning away from the river to cross farmland. Sticky clay fields full of purple white and pink potato flowers.
The village of Colburn is deserted, and while we sit outside the Hildyard Arms eating a boiled sweet from Les, we see not a soul.
Another farm track and more fields, this time wheat, barley, and rye.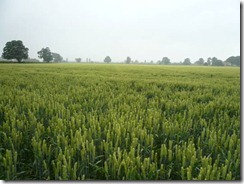 It is rather close and misty. We catch sight of an American Bloke we have seen but not spoken to before. Probably in Grasmere. Very distinctive tartan shirt, so has to be the same bloke. When we have to shout at him as he drifts off ahead of us down the wrong track (talking on his mobile phone) his gratitude brings him to accompany us as far as Brompton on Swale. Later people ask if he tried to convert us, as he is some kind of religious type. His conversation with us did not go that far, but he seemed to have no idea at all about the crops he was walking through. "Potatoes??" he responded enthusiastically. Come on now. Even Americans must realise that French Fries come from somewhere.
We don't go into Brompton on Swale, but cross under the A1 there on a path by the river. The road can be heard from quite a distance and is of course very busy. Glad we don't have to cross it on foot.
We do emerge onto a very busy cross road just outside Catterick Bridge. Ray wanted a photo here of the Scotch Corner directional Road sign, but sadly the camera memory card was full.
Now following the river along a scrubby section with a few sparse trees here and there. The river at our side is quite big and brown, and still moving along fairly swiftly, with not so much white horses as cream ones. We see the last of it just before joining the road into Bolton on Swale, which despite its name, does not seem to be on it at all.
It is another very quiet village, but someone near the church has left out supplies for walkers, and an honesty box in which to pay, which seems uncommonly friendly. Not many highlights this morning, but by now it is lunchtime, so we utilise the seat in the churchyard and settle down to our Richmond bought sandwiches.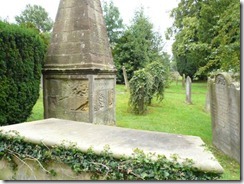 The memorial erected here in the 1700's commemorates the popular local, Henry Jenkins, who allegedly was 169 when he died!! Course, with a name like Jenkins he was probably Welsh too.
After Bolton on Swale we go on through some muddy and overgrown paths, and some muddy cow filled fields, all alongside a beck. In one such field there is a gang of rather naughty cows, which on closer inspection seem to be steers or stirks or whatever. This lot are not sitting down or munching. One or two of them do NOT want to move out of our way, and there is a bit of galloping and cow 'horse play', if that's possible. Luckily they are more interested in each other and the beck, and do not seem to be particularly curious about us. Though if you spend your time in a field on a major footpath presumably walkers should not hold much interest for you.
We climb over a style onto a red brick bridge, and here starts THE ROAD. Not Cormac Macarthy related, but a long… long section of mostly deserted tarmac, through largely featureless countryside. It starts to rain too. We pass the John and John Garage (Closed off. Barking dog.) and then conversation wears thin.
We start to lose it big time. Sad to see people dissolve into mental torpor and verbal diarrhoea. Especially when its you. There is much employment of a country accent, and talk of road signs and no through roads, with a side order of T junctions. At one point a splendid green insect alights onto us, hoping for a lift out of this area of the doldrums we surmise. It is about the only point of interest. A muck spreader passes. Days pass. We are looking forward to getting to Streetlam.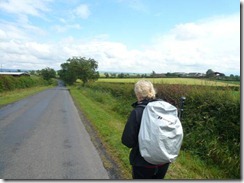 The rain stops. We walk on. Ho hum. Tum tee tum tee tee.
Iggle boggle black bobble.
Then all of a sudden we are there. Streetlam!!! Oh. That was it.
We are supposed to go around the outside of a horse enclosure here, and on across fields for a bit. Unfortunately someone has put their horse into the horse enclosure. (No. How unlikely.) It's a nice horsey. Ray says so. It wants an apple. But nice horsey is big, with big feet, and he won't go away from the stile we are supposed to go over.
I can't handle it. Not after all those dementing tarmac miles. So we are back on the road for a little longer. But not too long really, and at least it saved us some mud encrustilations.
Just at the point of all hope lost, we round the corner into Danby Wiske, a maligned destination in the middle of a maligned section of walk.
Wainwright complained that there was nothing here, but times have changed. There is a pub, The White Swan, into which we swiftly decamp as large drops of rain begin to bless us. Once inside, the skies open with a vengeance. Pity those hardy folk who are going straight on to Ingleby Cross. Our landlady for the night is already in there discussing stocks in the shop section of this multipurpose building. Later on we are back again for our evening meal. There certainly is not a lot in Danby Wiske, but what is here is fine and dandy.