"As with any day in the Lakes, the enjoyment of the 16 ½ mile… stage depends largely on the weather." So says THE BOOK before going on to point out that we will be walking through the area around Sprinkling Tarn today, the place with the highest annual rainfall in England.
Luckily the sun is shining when we wake up.
The Shepherds Arms has quite a small breakfast room, and we have to wait a long time for our eggs and bacon. The U3Aers are down and eating already. There's also a very loud South African couple holding forth briefly on this and that. Fortunately the radio is on, though it seems to be playing hits of the 60's. "Ooo. Remember this one.." a Liverpudlian voice asks the other U3A's. "Its 'Fo De O Do, by ..er.. Thunderclap Newman." Everyone is very pleased with this, but I can't help knowing its 'Mouldy Old Dough' by Lieutenant Pigeon. So who is sadder??? Fortunately we are all intent on the 'off', so don't have to dwell on it. This is one of the great things about the Coast to Coast, i.e. total concentration on the thing in hand. You don't have the time or need to consider anything else, and on the entire trip we do not listen to the News or watch the TV once. (Didn't miss it either.)
On in the present, then, we slot into the moving caravan of walkers setting off from the other B & B's all around the same time. With our first hotel packed lunch stowed in Ray's rucksack (Mars Bars included) we are ready for the day. Even the legs have been surprised into activity. Its not long before we have caught up with Australian Jenny, from yesterday. Later, when we get to the Lake, we all take the South side, as per the route, even though we have been told there is an easier path around the North side.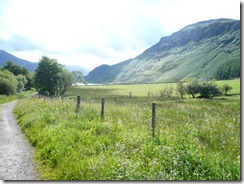 The path on the South side is rough underfoot, and there is no time to take your eyes off of your feet.. unless you want to end up IN the lake. It undulates and crosses many small streams. The weather is good for walking. Cloudy with sunny spells. All is going quite well until we hit the feature known as Robin Hoods Chair, where the path becomes a definite scramble. I have to haul myself up, quickly before panic sets in and renders my feet useless, and come down just as quickly using my bottom. Didn't like that at all.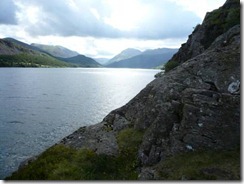 Beyond the excitement the path continues for some distance to the end of the Lake. In front of us are a family of four. Parents and two late teens children. They seem to be doing so well together I decide that they are the family we sat next to on Tresco all those years ago. The ones who wanted baked potatoes and water as their chosen meal ("Yes Please Daddy. We ALL want water please. How yummy"). Walking does this to you. Your brain empties out, and you see patterns and make recognitions of many past things. There is a poem of Pam Ayers' in THE BOOK pertaining to Dry Stone Walls. To quote
I am a Dry Stone Waller
All day I Dry Stone Wall
Of all appalling callings
Dry Stone Walling's worst of all
This is just the sort of thing that goes through your brain on a loop, as you walk comfortably along looking at the part paved path. Two further verses come to me as we continue.
I am a Lakeland Paver
I pave the Lakeland paths
Out in so much rainfall
I don't need many baths.
And
I am a Path Encruster
I work for the National Trust
My job's to fill the crevices
With little rocks and dust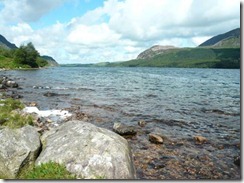 In spite of such entertainments we do eventually get to the end of the lake, stop for a snack, and then continue after crossing the River Liza, up an endless forest track towards the Black Sail Youth Hostel. This track is definitely endless, and in spite of the views, and the company of the U3A's towards the end, just a bit, well… boring. No matter. I can do boring. Its better than scared on the whole.
FINALLY. The trees thin out, and we can see the end of the valley we will be climbing out of.
By the time we get to Black Sail we are well ready for lunch. As is everyone else, and although its quiet when we get there, it soon becomes something of a motorway service area. At least, one without any facilites or toilets. (Toilets only open after 5.00 due to small septic tank. All females are disappointed by this). As one of the first there we get the wooden bench for our lunch. Its tidy.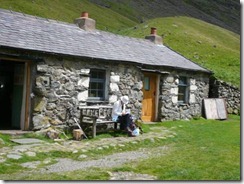 No one lingers long here. As no one knows what lies ahead you feel that you must press on. Anyway, its pretty obvious, even without reading about it, that we are in for a good bit of 'up'. There are several paths leading on here and our path is surprisingly a very thin looking affair going off to the left over the drumlins.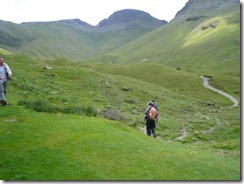 It continues to feel like an unlikely choice until after we cross a stream, and then a paved path ascends steeply, at first up a small ridge, but then by winding its way over steeply stepped boulders, ever upwards towards the skyline.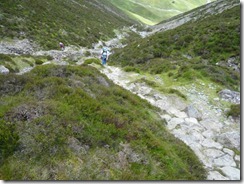 Its every man for himself going up here. "Just like the bloody Inca Trail," mutters one woman as we puff our way past. "Really?" I ask. "Yes. Except that was at altitude and went on for days!" I mentally cross that one off of my 'likely to do list'. Oh well. As ever with these things, there are several moments when you think you've got it in the bag. The worst is over. There's the top. Only to find that around the next turn you can see the path beyond, still cheerfully heading on up. It IS great when you do get over the crest, however. Beyond a boggy field and over a stile you are rewarded with a view over TWO lakes, or is it THREE? There is Ennerdale Water. It seems a long way off now. Whilst over to the right you can see Buttermere, being Buttermere and Crummock Water. Yep. Three it is.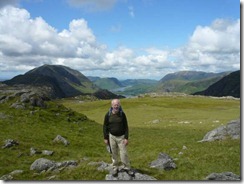 Fab. Truly truly fab. And how lucky are we that it is a good day and we can see this view…
The path continues, at first a little indistinctly, but the as we see over the pass we notice the medical students with their outrageously large rucksacks in the far distance. This rocky traverse is Grey Knotts, and soon we can also see the ruins of the top of a tramway which carried slate down towards the Honister Pass. Although not much remains, you can see that it was a house like structure, and is known as Drum House. The tramway cable was apparently held here.
From here the path is obvious, loose and rocky underfoot, and unrelentingly steeply down. In later days some folk referred back to this path in reverence, as a kind of measure of unpleasantness. I can't say I noticed it much, myself. Probably because down below, somewhere, there lies the Honister Slate Mine Visitors Centre, and whatever part of my mind was not concentrating on my feet, was absorbed with the very important idea of …TEA…in cups!… and a toilet…. In such a way are many meaningful moments and fantastic views etc lost to consciousness. Hmmm..
And when we finally got there the place did indeed live up to its promise, although what else was going on there, or what the exhibition held, I could not say, being focussed solely on instant gratification. Sadly we didn't have room for an ice cream after the large cakes.
By the time we left the Slate Mine the weather had closed in a little. Some of that predicted rain looked to be on the cards. The rest is mostly down. Down the road. Down a lovely path. Down towards Seatoller, where we catch up with the Med Students again. Those poor boys look well tired. One of them is limping a bit and in fact we don't see them again on the entire trip. Maybe they decided to stay in the Lake District.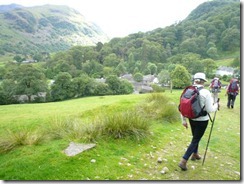 After the pretty little "National Trust village of Seatoller", and a tearoom opportunity spurned (Too full, still. Damn.) we meander along the valley through Johhny Wood, and passing a part where you have to cling on to some thoughtfully placed chains welded into the rock, to stop you slipping into the river. We are nearly into Longthwaite, the first of the three interlinked Borrowdale villages, when Ray announces a 'little detour'. Not for us the short cut to Stonethwaite, then, location of B&B number three. He has a yen to see the Borrowdale Youth Hostel, and the Scafell Hotel in Rosthwaite, where he and the Stourbridge crew spent a New Year in 1970something or other. Well. I suppose its unlikely we will be back in the short term, so why not. At least we can say we have seen Borrowdale… All of it. Onwards the oldies!! The youth Hostel is a disappointment. It looks as though its been rebuilt, and fails to ring any bells. There's a most interesting bridge, however, with many kinds of moss. The traverse through the villages is lovely, and the Scafell Arms looks the same. Job done. Only then do we have to turn out the waterproofs as a sudden shower necessarily arrives to uphold the area's rainfall record. Their FIRST appearance!! Stonethwaite is ashort distance further on along the river, over an old bridge, past a field of speciality sheep, some of which are Herdwicks.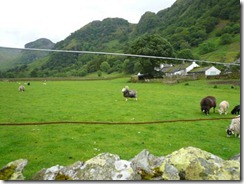 The farm we are staying in tonight is a very old thickly walled affair, with customary barking dog on arrival (but never actually seen). The room is small but perfectly formed and beautifully decorated. Outside our window are a pair of bizarre chicken, which turn out to be blue silkies when I ask the landlady later. The female in particular looks like a cross between a chicken and a grey poodle.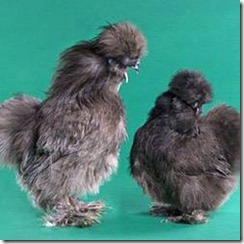 Just up the road is the Langstrath Inn, where we have booked to eat tonight. This proves to have been a genius move. It is a really olde worlde place, with a fantastic line in food. When we turn up people have to be ejected from our reserved table, it is full. We feast on Braised Herdwick Shoulder of Lamb in Red Wine Sauce. The BEST I have ever tasted by leagues. Followed by the ultimate Sticky Toffee pudding, of unsurpassed stikyness and toffeeness. Lakeland Bliss.