Wake up in The Hermitage on another bright and beautiful morning. No pressure today as we have a short 'recovery' day of 8 miles. The main route carries on to Kirkby Stephen, some 20 miles away, but we are going to make the less stressful detour to Orton, and stop there for the night. Outside the beautifully maintained garden is bathed in sunlit dewiness, and there is already someone up a ladder painting the windows. There is a fantastic breakfast. I think it's the only actual FULL English I have on the entire trip, witness to yesterdays exertions, and its really good. Even the marmalade seems special. Everyone seems cheerful too. Even the painter. "Well, you av to take advantage of dry weather round ere!"
I am foolishly excited about crossing the M6. All this nature we have seen, and I am thinking about a motorway. Something not right there surely. The walk through Shap is surprisingly long. It is a brilliant example of that 'O' level geography settlement phenomenon, the 'Ribbon Development'. It is hard to imagine now what it must have been like here when the village was on the main and only western route for most of the traffic going to Scotland. Particularly quiet and empty on this Sunday morning, it must have then been thronged with lorries and fumes. It is still the highest main road in the country, and I can remember in early life hearing news report about traffic stranded in the snow at Shap.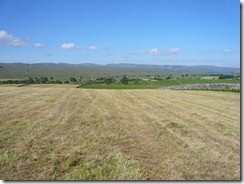 It's a 20 minute walk out to the bridge over the M6, through houses and then over fields. In the distance over to the right you can clearly see the Lakeland Fells, and even make out Kidsty Pike. This occasions a twinge of regret. As Wainwright says, leaving the Lakes is sad, and in some ways the best of the walk is now over. On the other hand there is a sense of achievement. We made it across the lakes with legs and feet in working order. The next section is into the unknown, as neither of us knows much about Westmorland, so that is exciting too. Onwards, then, across that motorway!!
Crossing the M6 does not disappoint. After days of foot paced travel the cars seem to be going at rocket speed. How can they go so fast?? We fail to capture it on camera anyway… no wide angled lens, it looks like any old dual carriageway.
The route continues via a quarry, and on up over some moorland still in view of the M6.It is already getting hot, or maybe its just me.A shady break is taken under some obliging trees before we emerge onto another moory treeless expanse. One thing you learn on this walk is that, as with bogs so it is with moors. There are many different types. This one is a limestone type of moor.
Just off to the right there is, allegedly, an ancient stone circle. Wainwright mentions it as a double circle. Of course Raymond, that renowned antiquites bagger, is off across the tussocks with stone detector on 'stun' before you can say 'are you sure th…'. Clearly feeling the effects of yesterday my enthusiasm for this is low. Nevertheless the circle is found, admired and photographed. Afterwards the path is also refound. It's a strange thing to me, but if you go off of the path on moors or bogs for only a short distance, it disappears completely from view. There's something perceptual and philosophical going on there. Deep.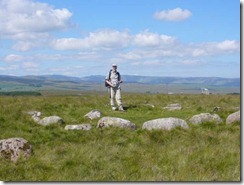 A short distance up the track we meet an American waiting patiently for his wife, who has also gone in search of the stones. They later become known as Bob and Priscilla, a couple from Connecticut with a liking for Real Ale and British puddings.
Soon after this Ray is taken with a field of thistles! In the context of the rest of the day this particular wildflower spotting proves to be rather insignificant. Next we see the limestone pavements as we approach Crosby Ravensworth Fell. Something I have only seen on TV or in books. Yes there really are clints and grykes, and yes they really do have little rock gardens growing down in them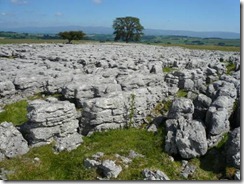 The distant horizon now reveals the Pennines, our next objective, and a sight to carry us forward if one were needed.
The legs are weary, and at one point we descend and ascend the sharp sides of a little dry valley. When we emerge onto a road we realise that in that valley must have been the cairn with the unlikely claim of being Robin Hoods Grave. Ray is put out. We have missed an antiquity (To be fair we don't miss any others. It only happened this time because I had THE BOOK, and my navigation is pants. I've never got much of an idea how far along a path we are.) If I were anything of a wife I would have insisted on going back. Sad to say, I only thought about my aching legs, and wasn't keen to go backwards. I now regret this failing deeply, and would most humbly like to apologise dear Ray. (Whilst knowing that this doesn't in any way make up for my selfishness…)
Anyway, we didn't get to see Robin Hood's 'Grave'. We walked on instead up a somewhat boring section of road until we reach a viewpoint where I receive a photography lesson.
Same path, two shots. They do look completely different.
On past a lime kiln where a group of Australians are having a photo stop. Then we turn off the main track.
From this point we descend towards Orton, alongside the MOST beautiful stream. Wildflowers are everywhere in profusion as we cross and recross the tinkling stream on small picturesque bridges. There are so many different kinds you can hardly believe what you see. It really is a kind of bucolic idyll, and makes you feel that perhaps the countryside isn't so doomed after all whilst also making you wonder if it was mostly like this before THE CAR.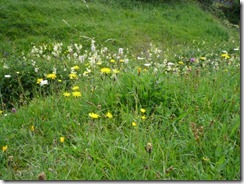 You want this little path to last and last, but when we eventually emerge into Orton it is like walking onto the film set for Middlemarch. The path comes out between beautiful gold coloured Georgian style manor houses, not even on a tarmac road. It is an uncanny feeling, taken with the lovely path. Like time travel.
It is about 1.30, so we are in time for a pub lunch, even if they close in the afternoon. The recently reopened George Hotel is easily found. Its very quiet indeed for a Sunday. There is a TV, but its fairly small and unintrusive. It is also relaying sound consistent with the programme being shown (football) unlike those wall sized TVs in many pubs these days. I demand a beef burgher – rather out of character. I am starving again. More beer please. Course, we shouldn't have too much as we have an evening meal booked at the B&B. A sumptuous 3 course affair according to our information.
Later we proceed outside for a large ice cream from the Orton Chocolate Factory. Yum. The chocolate Factory itself is similar to the small enterprises in Swansea and Pembertons in Llanboidy, except that it has a large café area and a bigger shop than I have seen elsewhere. The chocolate novelty items on sale are awesomw in their variety. Unfortunately not likely to survive in a rucksack, so we buy a couple of bars. After that, time to spare until we can check in about 4.00, so atour of the village reveals more beautiful houses, a shop and post office, a set of stocks and a church – All Saints – with a white tower.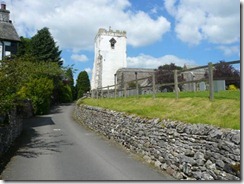 The proprietors of Barn House will be waiting for us with tea and cakes we are told, so when we pass a village Strawberry Tea event with union jacks flying we resist temptation in spite of the friendly shout, "Come on in. We've got plenty to spare!!"
There's a school here too. What must it be like to live here? Can't help but wonder if it is a idyllic as it seems.
Our B&B is outside the village at the side of a little housing development, inside one of which a barking dog is hurling itself furiously against the glass by the front door. (One of the very few dogs we saw en route, and the only unfriendly one I can remember.)
Our landlady for the night is busy in the garden when we get there. No tea and cakes in evidence. It seems that Lilian and David have moved on… Disappointing! Later the second disappointment when no evening meal seems to be forthcoming. Although we later find out this is because the pub is now open, it would have been nice to know. (Mickeldore failure we later realise, when it happens again in Kirkby Stephen.) The house seems to have been purpose built for B&B, as the guest half is self contained. Our room has its own staircase up to modern arty interior decorated with posters from the Tate Gallery and tones of Shocking pink and Lime green. Lots of magazines. I find a recipe for Sloe Whisky.
Later, back in the pub, we meet up with John and Trish, and there is much talk of Golf and related matters. Not something we can really contribute much on.