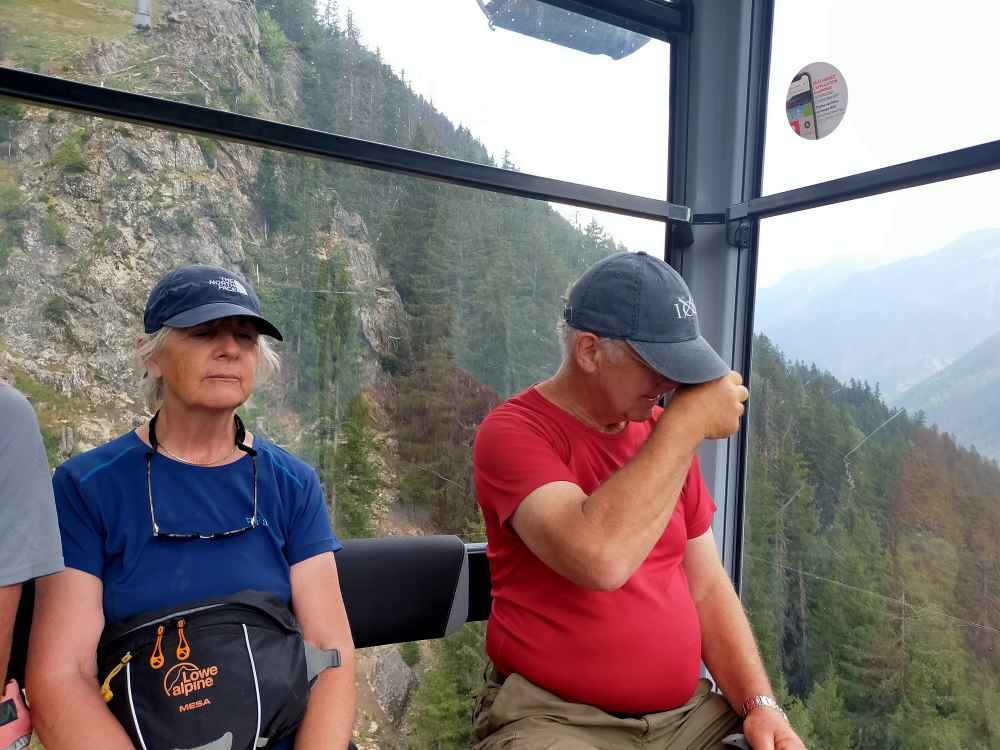 Last night's meal was courtesy of Ann Paul's partner who is staying in the delightful chalet house of her friend Jan. Some great local art and s super meal. Thanks Ann.
The sting in the tail was when we tried to get home. Paul had carefully checked bus time tables and we got to the stop on time back to the hotel. A bus arrived and told us the timetable was wrong and the night bus would be half hour or so. A quick yomp up the side of the glacier fed l'Arve with mist from humidity from earlier shower. Home and bed to rise to a good breakfast amused by the barely adequate hot water egg boiler. Then off to the 1,000m telepherique back to the Hotel Flegere. Where we finished yesterday. A brilliant if exhausting walk ensued along the Grand Balcon du Sud and up to Le Brevent. The clouds lifting of the surrounding mountains at intervals offering super photo ops.
After lunch just below the summit we walk down a long long long way into Les Houches and the after crossing the river a climb of maybe 25m is the last straw for many. The hotel has a pool and Tim, eager to prove he can swim but often chooses not too, is in it like a beaver, though not gnawing any supporting structures.
A grand if rather tiring day even with help fro the Telepherique. Over 1600m of descent But on Tracklog of 2,300m descent.