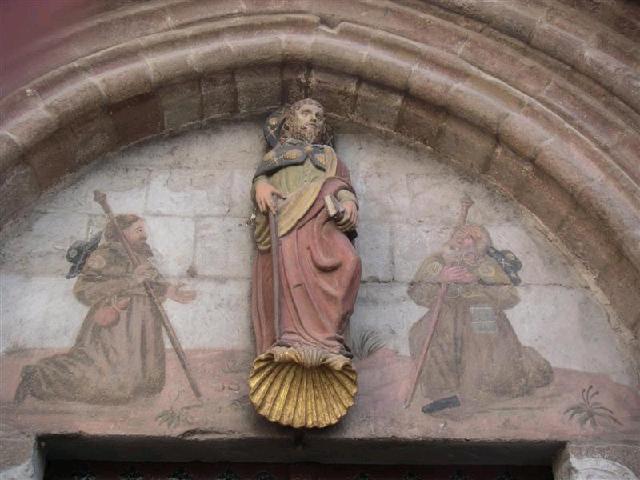 5.08.08 Tuesday.
Ruesta to Sanguesa.
After a second good meal post siesta, there was little to do but complete the blog and go to bed, the whole dormitory agreed that 0530 was a good start time so we could get up with the lights on instead of creeping round in the dark tripping on things. So we set of down the rocky path out of Ruesta by head torch light at 0530 after crossing the stream we climbed up a moderate incline for a bit over an hour rising 250m to a ridge before descending on rough tracks and finally just before Undues de Lerda the remains of an old Roman road. As we reached the village at 0845 after 12km the only shop and bar was closed so we pressed on stopping to eat from our picnic provided by the hostel in lieu of breakfast.
A long boring stretch on road during which we saw our first olive tree, (a clear sign of climate and decreasing altitude) was followed by more rough tracks on which we moved over the border from Aragon to Navarre and which brought us to the outskirts of Sanguesa around 1100. While wondering whether to move on to the next place on our Camino route or stop here we lost our place in the queue for two of the 14 beds in the pilgrim hostel. We then found that our possible next stop is no longer on the route and the next stop on the route is 29km! Just a bit too far in a Spanish heat wave so we end up in a somewhat more expensive Touristico Rurale at 56€ for two in a double room instead of 8€ each. But we got in at 1300 and had somewhere to siesta, this is a necessity in temperatures well over 35 degC.
Before siesta we found time to visit the church in town dedicated to St James, (he was there above the door standing on his scallop shell with a pilgrim on each side). This church dates from the 14th century when the overlord decided the populace needed another church. The original fortified church on the bank of the river was built at the founding of the town in the 12th century. This was placed here deliberately for the pilgrim way as a resting and trading point after crossing the Pyrenees and descending from Jaca.