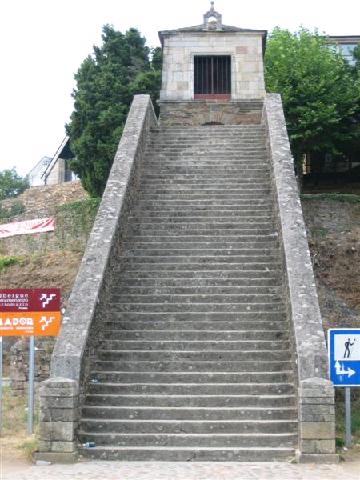 27.08.08 Wednesday.
Samos to Portomarin via Sarria.
The albergue in Samos filled up completely very late on and took a long time to settle for the night with 50 plus people in one room. We were first out of the door after a not too good night sleep (for Tim), but hey, how often do you get to sleep in a monastery, to eat our breakfast (pastries and fruit juice) in the bit of a garden on the other side of the road where the washing dried yesterday. As we walked out of Samos it was obvious that at about 500m we were in the clouds that yesterday morning had been so impressive, not cold just clammy, with water particles visible in our head torch lights.
It was an up and down day mostly following farm tracks over about 38 kilometres with a final descent of 300m down to the Embalse de Belezar reservoir on the Rio Mino. This river via at least one more sizeable reservoir makes its way to the Atlantic after it has served as the border between Spain and Portugal.
We cross the bridge over the reservoir to the bottom of the town of Portomarin and climb a steep (well it felt steep) flight of steps up to the Albergue. One of the modern privately run Red Albergues that are present sporadically across the Camino, they are clean and well run and cost about 8€ per night usually in small 4-6 bedded rooms. We meet a Greek ex commercial and still keen amateur diver (Tim and he natter for ages).
Portomarin is a relatively new town as it was built after the river was dammed in the 1960s. The Romanesque church of San Nicolas was moved stone by stone to its present location in the centre of the town before the valley was flooded.
Also in town is the baker who makes the famous 'Torta de Santiago' which is a large plate sized almond tart decorated with the cross that is a combination of a sword and a shepherd's crook. Bob Simpson brought one of these back from Compostella airport on one of his travels last year for Tony and it was enthusiastically devoured at Christmas. Fortunately they do seem to remain edible for some length of time.
We now have 4 easy days to cover the remaining 90km to Santiago de Compostella.