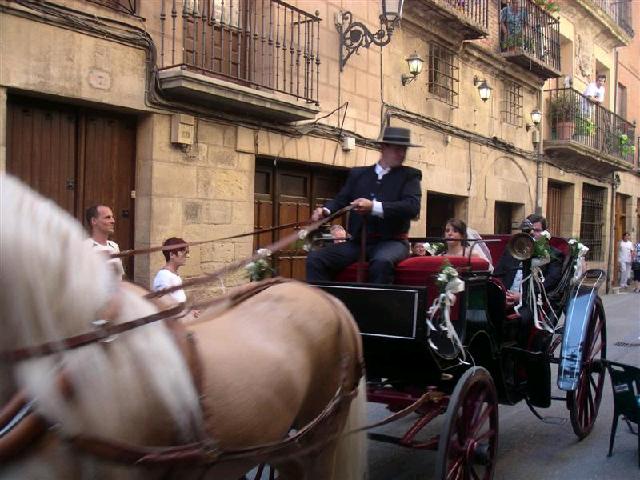 09.08.08 Saturday.
Villamayor de Monjardin to Viana.
Not as early a start as usual, the hostel is so small that Ralf, (the German tax inspector/guardian) and his colleague try to stop people getting up before 0600 and provide a breakfast from about 0615 to encourage this. It worked reasonably well and since we did not have to far to go today and it is no longer so hot by 1100hrs we were happy along with just about everyone else. No need for head torches as it was getting light enough by the time we left the village lights at 0645. The first few miles were a pleasant walk across undulating country as the light came up, illuminating the stubble fields and the distant Sierra da Cantabria with the cloud remaining hanging over them. We pass, get passed by and repass familiar faces over the morning, and find a bar open in Torres del Rio at 1000 for a quick coffee. Out intention was to stop in Los Arcos for the Pilgrim Festival (an excuse we think for a larger Saturday market), though perhaps with a fiesta in the evening, goes out the window as at 0845 as they were only just setting up stalls.
We continue over fields with increasing olive and vine cultivation and see our first wild Agave (large prickly succulent), another sign of changing climate zones and finally top the crest of the valley basin of the river Ebro containing the city of Logrono in the province of Rioja. Here in Viana, 5 miles away and 100 metres higher, we are staying for tonight in a large town with a lot of building work on the side we enter as the construction of many new apartments is in progress. A large church with a wedding about to start, we see the bride arrive in a horse drawn open carriage and pass by the hostel in the side of the church to go to the one about a 100 metres down route attached to the ruins of the old church. There are about 70 beds here and the labelling of the 3 tier bunks is somewhat idiosyncratic, we have 12 and 18 and they are one above the other!