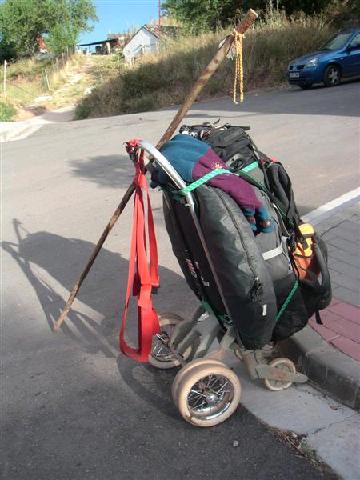 11.08.08 Monday.
Ventosa to Santa Domingo de Calzada
We start early because the rest of the dormitory is rising around 0500. Out of the village by torchlight we see very few of them. We think that we are faster at getting going in the mornings, usually a litre of orange juice between us and whatever else we have like some dried apricots this morning and then we are off.
Yesterday evening we met the man with two dogs and a shopping cart, he started in St Jean Pied de Porte, the two dogs (mother and baby) he has prevent him from staying in hostels and his gear for sleeping out and caring for his dogs prevent him carrying everything, so his solution a shopping cart . Not a trolley with wire basket but more like a golf caddy only bigger. He manhandles this over the Camino, most of this is easy but we have seen some rough bits that give mountain bikers pause for thought.
The morning is cool and some cloud prevents the sun breaking through till around 1000. The way is at first over the undulating vineyards of Rioja, they go on for miles but we suppose all the good red wine must come from somewhere. The vineyards are gradually replaced by stubble fields from which a good corn harvest seems to have been gathered and the bales of straw are slowly being collected or gathered into piles in the fields.
On our way through Najera we are stopped by 2 nuns who are cleaning the street. They have brushes and a rubbish bag and are picking up litter. They attempt to talk to us despite us obviously not understating much that is said to us, but one of them ends up blessing Tony before sending us on our way!
Just after 0800h we reach Azotra where a bar is serving breakfast and pelegrinos plus a few locals are having coffee and breakfast. So do we. It is very welcome so we have two coffees each as well as the breakfast of toast, butter and jam.
After 30km about 1145 we reach Santa Domingo. This is a classic, very old Spanish town, started in the 11th century by St Domingo, he must have been quite something. Having been refused entry into the priesthood because of illiteracy he become a hermit building his own hermitage. He recognised the need for hostels and the first hospital to assist the hordes of pilgrims trying to reach Compostella, so he built them! The town then formed around these and has probably the longest and best history of hospitality to pilgrims on the way. The rest of his life seems to have been devoted to bridge and road building along the route in this area, pretty good for a church reject.
The hostel we are in is almost opposite the site of his initial hospital and is a great old building repaired in 1965 and now undergoing some expansion. The cathedral has an exhibition of religious art in the cloisters and a live cockerel and his mate live in a room in the roof! They are a symbol of the reputed miracle of the pilgrim who was framed for stealing (by a jealous rejected innkeeper's daughter) and was hung, but still lived when his parents returned from Santiago. They petitioned the judge for his release and were told that there was less chance of his being alive than that the two fowl on his dinner table could fly, whereupon they did and the boy was released. The building we stay in is also the housing for the replacement birds for the cathedral.
The whole town is a mix of many ages of buildings, side by side, and many are propped up and undergoing restoration, including an interesting bit of city wall. This is a town built for the Camino and is being restored in part by the current day activities of the Camino.