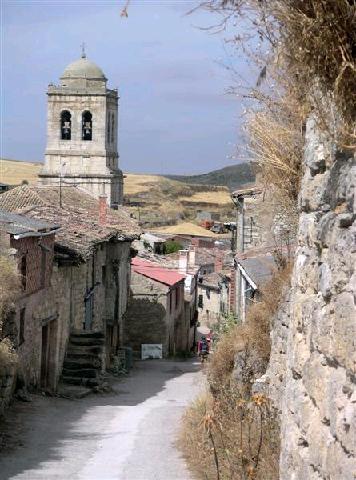 14.08.08 Thursday.
Burgos to Hontanas. The start of the Plains of Castille.
First the city of Burgos redeemed itself somewhat. Although the new modern area around the old centre is vast and takes forever to penetrate, the old part and the magnificent cathedral are worthwhile. The deafening peal of the cathedral bells rang out as we left it after viewing the huge dome/spire from inside and what appeared to be a solid sliver cart.
A very good nights sleep after the days excess walking and we were off in the dark through the streets peering into corners to spot the Camino marks (yellow arrows or blue signs or brass scallops in the pavement), the marking of the exit through the town was of better standard than the entrance and we eventually dropped off tarmac onto the familiar rough track with only 15 minutes of head torch use. The route out of the immediate environs seems to have been permanently diverted around motorway constructions with little consideration to the direction of foot travel of pilgrims and it took longer to reach a breakfast coffee stop than expected but shortly after that we climbed gently onto the 800m high plateau covered in stubble fields and rocks, in a chalky soil. It is very arid, if the rain in Spain falls mainly on the plain, it's not at this time of year.
We ramble on over the undulating plain, there is nothing to see but fields a herd of sheep in the distance grazing and being shepherded and a crow provide the only entertainment apart from mountain bikes which seem more popular than walking on this part of the Camino. The horizon is closer than it should be as we are on top of a huge upland, dropping very slowly in all directions. The world seems to have shrunk.
Suddenly we see a vehicle passing 400m in front of us. There is a road crossing our path and signs for the albergue in Hontanos become more frequent (5€ for a bed). Suddenly a small valley opens up with houses and a church bell tower and our path drops down into it.
We stop at a very clean smart looking bar and check in early getting the best beds by the window and power point. Talking later to some Irish pellegrinos we find this was a wise choice as the rather tumbledown municipal albergue 50m down the street was fumigated for fleas two days ago. Is it better to stay in a albergue that has been fumigated or one that hopefully doesn't need it!
This village is very rural, looking round the hillsides tractors almost outnumber inhabited houses. The key word is inhabited, a sizeable portion are disused and ruined while others next door are being repaired. The walls on the sides of the track down into the village look and probably are 1000 years old and may well be here in another 1000.