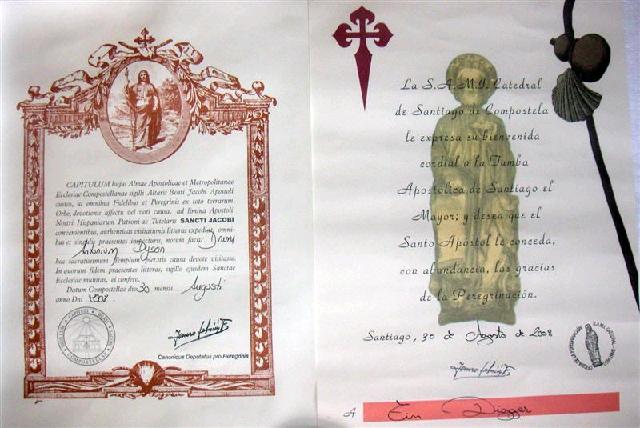 31.08.08 Sunday.
At large in Santiago de Compostela.
Yesterday when we received our Compostelas we had to state whether our journey was religious, spiritual or secular. One of each of us replied secular and spiritual, neither having a true feeling of a higher call to Santiago. We received different documents both attesting to our arrival date in Compostela, one in Latin the other in Spanish. What the religious one is like we don't know not having seen one.
This morning about 1000 we visit the cathedral, the front of the building has no fewer than three statues of St James, one as pilgrim and two clones of the apostle. There was a service in progress but no one minds as pilgrims wander round and are shepherded by ushers into filing past the silver reliquary possibly containing the bones of St James in a crypt and then up behind the statue of St James on the altar to embrace and touch and help polish the orb of gold on which he is standing. It is quite moving to stand at last as hundreds of thousands have done before over the centuries after making their journeys, often at considerably more risk and hardship than ourselves. The huge censer (incense burner), the famous 'Botafumeiro' that the cathedral is famous for, was not in action but hanging over the priests as the service took place. This is made of silver, weighs nearly 80kg and takes a team of 8 men and a system of pulleys to set it in motion. It swings at ceiling level from one end of the transept to the other. Let us hope that the rope never breaks! The organ played to accompany the service. It is huge with a beautiful tone and outside we listen to three street musicians playing Pachelbel's Canon and a piece by Rodrigo, on flute, guitar and mandolin. The street musicians that play in places around the city must be well regulated they are all of a high standard and appear to have a set pitch and time for their playing.
Later today we have secured a small self catering apartment close to the middle of the old town and settle in to do washing and house keeping chores, before the arrival of our wives tomorrow. The weather is still cloudy and cool.