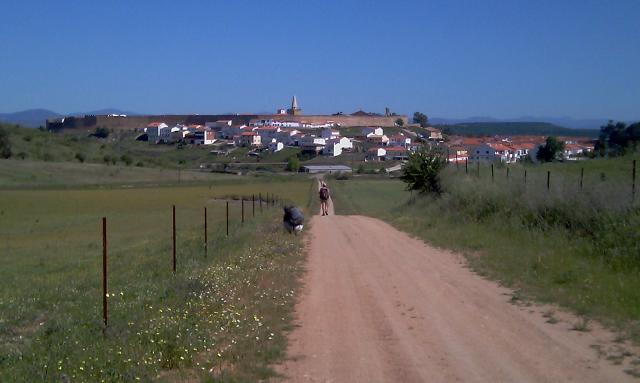 14.5 Monday. Canaveral to Calisteo.
A night sleeping in aircon in Hostal Malaga worked wonders and having managed to pay for our room and board in the evening, the over worked landlord being understandably reluctant to provide breakfast when we insisted on leaving at 5am, we set off once more into the dark. Only one false move of 200m and we are loping along, once more the camino follows the Via Pecuaria first steeply up then more slowly into oak and cork pastures. The day dawns, the route undulates up and down, following the border of a subregion or large estancia, at one point a herd of cows are watched over, not by the conventional large dog, but by CCTV! !?
At one point we descend a shoulder of pasture above the Embalse de El Becheron past the dam, down to a road and the bridge over the dam outflow. At this point there has been some messing with the signs, the official route which we took goes right up the road about 400m and turns left (well signed with the official granite cubes of Estramadura) up a good dirt track to higher pastures and a distant view of the old walled town of Gallisteo, our destination. Descent down the track leads to a large concrete irrigation channel and offical block signs to the right alongside it. After 200m there is a block pointing the green route (not camino yellow) down an overgrown path which may link up with the route later. Further on just under a km is a locked gate with signs saying no camino. We believe this to be the correct route and climbed the gate, passed a deserted farmhouse to its left and picked up a good track again. Down over another locked gate passing an active farm on the right and meeting signs from the indicated green route at the bridge over a stream covered in poplar seeds in snow drifts over it. At this point normal signs resume and after a steep hill the town of Galisteo appears walled but welcoming.
The Alburgue is at the bottom on the right of the road up to Puerta Santa Maria a gate through the old walls of the town.
A good days ramble in the old tradition. 27km 6 hrs. Its getting very hot now at 4pm and several turning up at the albergue seem to have taken a different longer route!