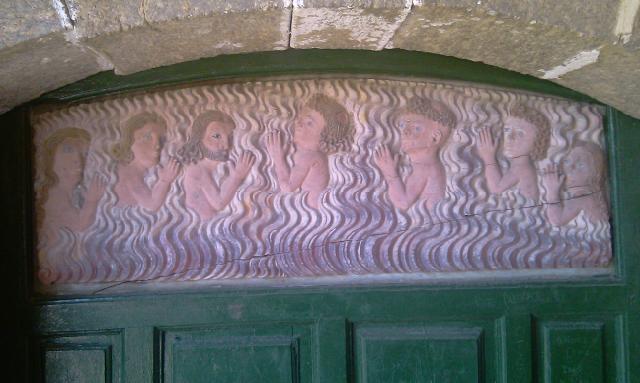 27.5 Sunday Mombuey to Puebla de Sanabria.
By the evening the little albergue in Monbuey is full, with one or two on the floor, the village cats share our tea in the little sitting area outside the church. We disentangle ourselves at 5am as usual and set off. Reasonable waymarks are disturbed by even better signed diversions with warnings of work on we think a high speedrail line when will this be finished we wonder.
As the light starts to come up we see a deer cross the track ahead, the first of several during the morning. The route passes alternately through heathland with both yellow broom and a smaller white broom, and deciduous oak forest. Later heathers of various sorts are added to the mix. Bird life is much more typical of UK countryside with blackbirds, magpies, crows, and a couple of jays together with audible cuckoos and woodpeckers. It is cold for a long time after the sun has risen so breakfast is late, walking to keep warm is essential but it will still be hot this afternoon.
We pass through many small villages on the way, most have a proportion of abandoned houses, some villages have obviously only been rescued from oblivion by becoming largely second homes.
One of these is the village of Otero de Sanabria with a wonderful carved frieze above a door, this could be taken to represent happy people swimming in water but in fact is sinners being purified by flames, including one tonsured one!
Looking on the map of the area we see multiple references to llamas which apparently is spanish for flames. Betsy conjectures, since they are mainly on raised ground, beacons or bonfires for signalling or celebration.
We have crossed and recrossed the N525 during the morning and finally walk down it across the bridge over the Tera (or arm of reservoir into which it pours) and into Puebla de Sanabria.
The town and castle are originally on the hill on the last bend in the Rio Castro before it joins the Tera at this point.
Later after lunch we visit the castle a well repaired piece of history built from the 12th C onwards and are encouraged to play with some mock armour produced for the purpose, it is very heavy.