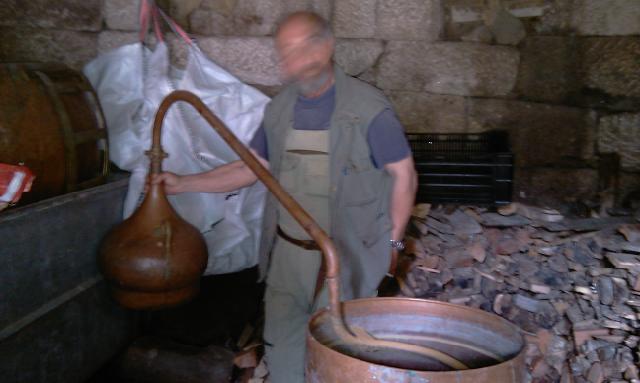 2.6 Saturday. Ourense to Cea.
After yesterday baking and being basted in beer, today should be better. The forecast is for a cold front bringing rain and cooler temps by afternoon. The tv news is that Ourense yesterday was 41degC, this is unseasonably hot andhas caught everyone out, all the swimming pools are still green from the winters disuse. The total yesterday was 36km and 9.30 hrs including bar time.
In the evening we saw Fabricio, Peregrino Total in a bar, he has found his friends who live in Ourense, who he met on the Camino Primitivo. They are set to party for the week end. We may yet meet in Santiago although his time constraints are different to ours. When he finishes in Santiago he will catch the train to Bayonne, the French have a scheme where youngsters who have fallen into bad ways and company, and committed offences can be sent on Camino with an experienced mentor one to one. The mentor is paid 1200euros for 2000km plus albergue and food expenses for both. At the very least it should remove them from a harmful environment and not teach further illegal practices, at the best maybe a new life! Fabricio hopes to be taken on for this program like another pair we saw in Extremadura.
We start at 6.30, the temperature is still over 20deg after coffee in the station cafe opposite a large steam train we head up hill out of the valley of the Rio Mino which becomes the border with Portugal flowing west to Tui where we crossed it two years ago on the Camino Portugesa. The way is steep tarmac but after an hour we have gained 300m in height back up to 400+m. The walking is then very pleasant along typical Galician farm tracks. Shortly we are looking for a bar for a coffee stop, and as Betsy put it we have a Camino moment. A goose comes hissing from a farmyard his owner shoos him back and seeing our interest shows us the goslings he is protecting and invites us up to a private bar area for coffee. We accept, and are given not only coffee, from a camping stove, but samples of his home distilled liqueurs! Hmm quite strong. Tim expresses interest and is shown his still or alambique in the back of the barn, copper coil in an old oil drum. His mother was English but his English these days sees little use but we have a chat and admire his heavy old military rucsack that he carried on his Caminos in the early seventies. We hope we made his day as he did ours.
The road kill is interesting with two slow worms, two toads and a couple of moles added to the collection. Birdlife is like home – blackbirds, jays and magpies plus serins and turtle doves. Relatively early and painlessly compared to yesterday we arrive at the albergue in Cea, an old typical Galician building refurbished with a covered drying area and an horreo outside, lunch and sleep follow after washing the rain passes while we are inside, a near perfect Camino day.
22km 6hrs.