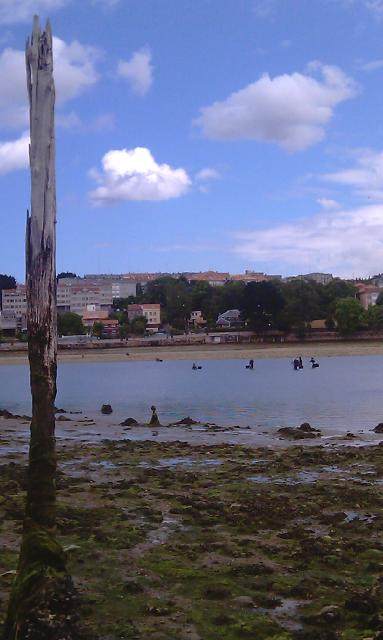 The English Way.
6-7.6 Wednesday and Thursday.
The Camino Anglais is the shortest and quickest way to have your sins forgiven. Probably used in medieval times by those whose time was precious and with plenty of money. Royalty and nobility whose abscence from earthly concerns might result in no concerns to return to. It is still done by those with little time as three days is the average from A Coruna and five from Ferrol. Since there are only three albergues at the standard Galician rate of 5euros, two on the Ferrol part, any other nights are comercial lodging at slightly higher prices. This was not why Tim, setting off from Santiago at 0900, after getting out of the industrial zone as quickly as possible, and finding himself in Siguiero by 1200 decided to carry on walking after lunch in a Pulpuria. Not as you might think on octous stew but on a local delicacy of what would probably in English have been called fingerling trout, that is little ones, eaten whole with chopped bacon in their tummies. Delicious!
The feed was needed it was 18.45 when he reached the albergue after a long ramble up and down over Galician farmland and woods, mostly on quiet country lanes but some wooded tracks as well. Only two bars one closed. The other provided bocadillo and beer, and a chat in english with the landlady whose first ten years of life were in England.
Quite a bit later the hospitalero of the albergue took one look and said, I think, you have come from Santiago today. Time of arrival and state of quiet exhaustion, easy diagnosis, quite made his day. He is very proud of his little Camino, too short at under a hundred km from Coruna to gain one a compostela. The rolling nature of the countryside providing, as if it were needed, additional excercise.
After a night of rain and much needed sleep the next day opened much as before with more rolling Galician countryside with flowers and cows to be milked in multiple humming little milking parlours most herds being 10-20 cows not the huge dairy herds of uk dairy farms.
After a while over an oldish bridge the airport for return transport to home appears on the left and, up a hill a choice of bars, ever perverse the road is crossed and sustenance provided.
Down over the autoroute and railway, not the hairpin route of the way to Ferrol but a short cut at the end of the runway over the motorway and railway. It leads to a little parish church of Santiago on the banks of the Ria do Burgo, the long, long, estuary of A Coruna. This has a glass door so peligrinos can look but not enter.
There is a great bit of park along the amazingly clean estuary, the tide was out and it was not stinking mudflats. In the low waters there were people dredging for shellfish, as probably for centuries, just not in wetsuits.
Walking in cities is always difficult,p distances seem further and it was a while before a cheap hotel and late siesta appeared on the horizon. A late evening dip of toes in the atlantic ocean convinced that journey Mar a Mar up Spain was over.