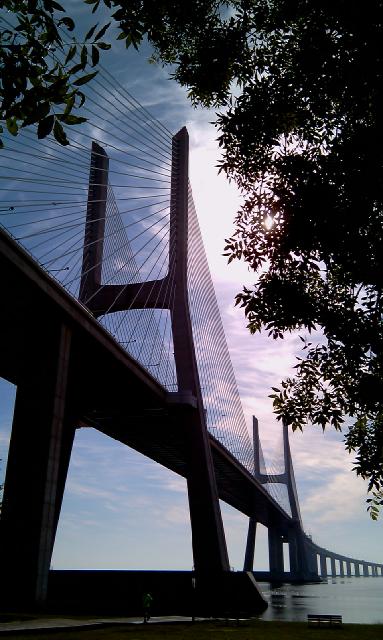 Thursday May 6th.
We rise early again to get a taxi to the airport and see Jane checked in for her flight back to Bristol. We three then get another taxi out to the Vasco da Gama tower and bridge over the Tagus. The driver seemed a bit upset to some of the party, others failed to notice. We start walking and after a while the route heads inland to avoid a climb up to an unpreposessing suburb. We pass up a riverside covered in flowers, another time of year it could be unpleasant but it is a delight, with flights of Black winged Stilts swooping about. We loop round and rejoin the river, to our chagrin the VdG bridge appears only a mile or so downstream, we have walked about 6.
We have a beer and an omlette sandwich! for lunch in a little cafe. The route continues up the bank alternating nasty industrial areas with pleasant marsh and river bank. We see several possible Collared Pratinicoles over a marsh lake. None of us has seen these before and look them up in Tony's electronic bird book. We may or may not be right.
During a particularly unpleasant stretch of main road we stop for another beer, it is a quiet bar with two groups of old men playing cards. Betsy needs the facilities, it is unlocked especially for her. There were no surprises though this may have been its first use by a customer this year.
The day closes when we arrive in Villa Franca de Xira tired after about 29km, not bad for a first day.