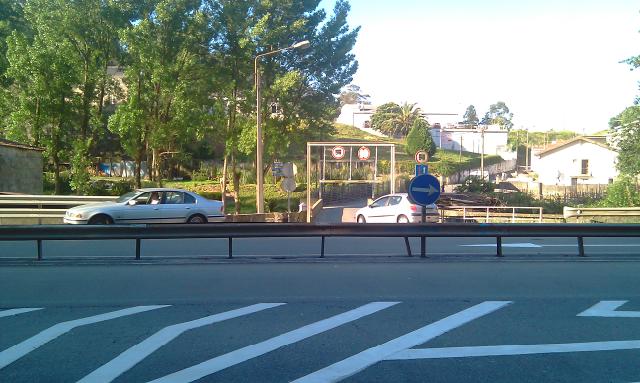 May 21st Friday.
We decide on an even earlier start than before as we have not only a hot day predicted but we are aiming for a small albergue with only 4 beds and presume the camino rules of "no booking, and first come gets the beds" apply.
We stop on route to investigate the Porto campsite as we intend to use it in 2 weeks time, but it appears to be closed. A problem that needs solving over the coming days.
This is probably the most unpleasant day's walking so far, not only is it pavements and cobbles but there is little to relieve the monotony of the walk out of Porto. It also contained the worst road crossing so far experienced on the Caminos with the possible exception of the urban motorway outside Burgos. The minor road we were on, met a major road with central crash barriers (two with no space between) and very little space between consecutive vehicles on either carriageway. High speed hurdling skills would have been useful! Later frequent large lorries buzzed past on a road barely wide enough for two cars without any footpath.
But all good (and bad) things must end and finally we arrive in Vilarinho after passing through several other places beginning with V with great disappointment. Tony has failed to torment the 5 german pilgrims on the road with us into a race and has accelerated past us all to see if he can check in to the pharmacia and get the keys to the albergue before towels/bed rolls are placed on the only 4 beds available in the part of the school no longer required for education.
It is a very quiet place once the kids from the school next door have gone back in
to lessons and after lunch in the village we doze in the shade of the playground wall. Or some of us do! Relaxed after a good lunch in town, Tim has a badly timed moment of altruism and shuts the albergue door on his way out, in an attempt to keep the temperature inside down. Yes, you guessed, the keys were still inside. "I knew it was a bad idea as soon as I did it". Faced with little sympathy from fellow peregrinos, his longed for siesta began with another trip into town to beg in sign language for spare keys – all the more urgent because our new Italian companion, occupant of the forth bunk, was last seen heading for the showers with minimal clothing! All is sorted though the system for the second set of keys must have been devised by a computer scientist (who else would place the second set of data on a distant site). A short time later the kids come out to play, so much for siesta. Betsy talks to them in portuguese they seem impressed by the walk we are doing. Tony thinks we should all have been CRB checked before being allowed check into the albergue. Then the bell goes, peace gradually descends again.