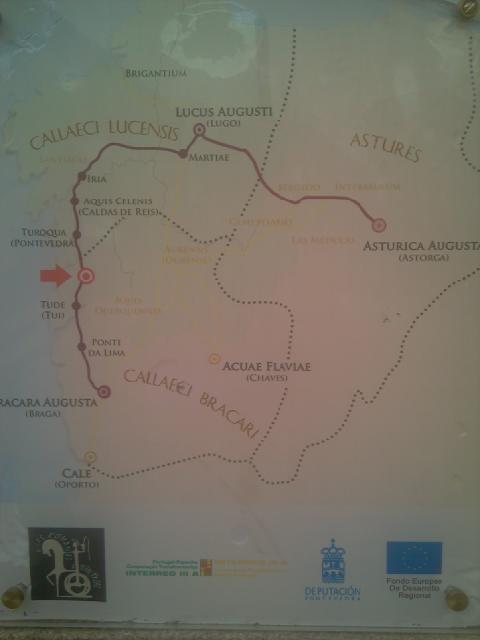 May 26th Wednesday.
A long day today, so we are out of the albergue (with our paper sheets in the bin provided) by 0600. Spanish time is one hour before portuguese, so it is dark and our head torches are needed to spot the yellow arrows leading down the narrow streets to the farmlands below. It is cloudy so the light only improves slowly, rain threatens all morning but never really gets heavy. We pass though some pleasant country lanes with several ancient bridges and stone crosses, in part following the Via Romana XIX as yesterday up the valley of the Rio Loura a pleasant little stream. One of the bridges is called the Bridge of Fevers and near it is a memorial to Saint Elmo who died of a fever at this spot on returning from a pilgrimage to Santiago in 1251. ,There s an side alter dedicated to him in the cathedral in Tui.
The way marks lead us up a new path up the banks of the river but at some point we miss a turn off to the left and are corrected by advice from a lady weeding the path, up to the little albergue in a village up on the left slope of the valley. In a while we gradually descend towards Redondela stopping at a restaurant for lunch and rest, we finally arrive at the albergue in Redondela after a fairly pleasant if undemanding walk about 3.30.
The albergue is an old 16th century stone building on the Way near the middle of town. It has a good exhibition of black and white photos of the various Caminos. However the drying of washed clothes is a problem especially since we delayed washing yesterday because of the rain.
After a rest we wander round the town and try to follow the two long railway viaducts that arch over the streets below.
Outside the albergue is a map of Gallicia and Asturias with the rather circuitous route of the Via Romana XIX marked upon it. We realise that we have met it before in Astorga and Santiago on Tony and Tim's previous Camino.