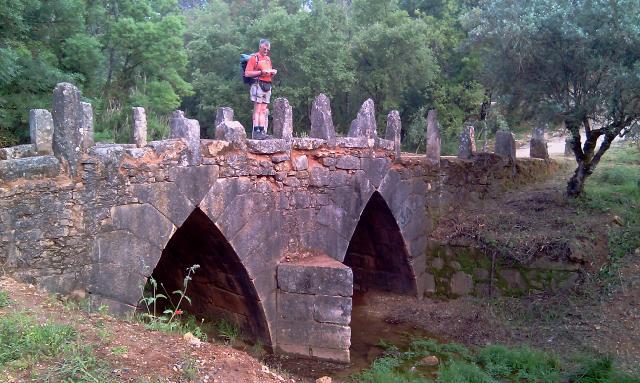 May11th Tuesday.
Breakfast is included so no need for a coffee stop for miles. Just as well, this is a day of ridges and bridges. At least at the beginning. We cross the bridge over the Rio Nabao in Tomar and head uphill out of town, shortly we cross another very old bridge and then go under a much more modern one with a main road on it. We walk a long way along a straight ridge before a lot more serious up and down. Never very much but sometimes quite steep. This is rural portugal and full of olive trees, figs and citrus fruits bit not a lot of cafes or bars. A lot of houses are abandoned, and some obviously only a part is still inhabited. In one area the chimneys look like little hexagonal minarets.
Once again it starts to rain (what does a 30% chance of rain mean anyway?) and we descend down a near stream with some miserable goats and even more miserable looking sheep. These sheep were not about to move they had a bit of dry ground under them and intended to keep it that way.
By this time we had covered about 20km and Betsy was struggling a bit, shin pains on one side were giving problems coupled with a poor nights sleep meant a slower pace for all as we failed to find the correct route but came into Avaiazere along the road, fortunately not too busy, another 30km day. Leaving Betsy to recover Tony & Tim wander round the village/town, the tourist office is still open, a little hexagonal bandstand in front of the church. The lady in there plies us with information and delves into filing cabinents for English translations, we suspect we are her work for the day. We are now at around 300m in an area of limestone with karst formations, which explains the orchids at the roadside reminiscent of the Derbyshire White Peak.