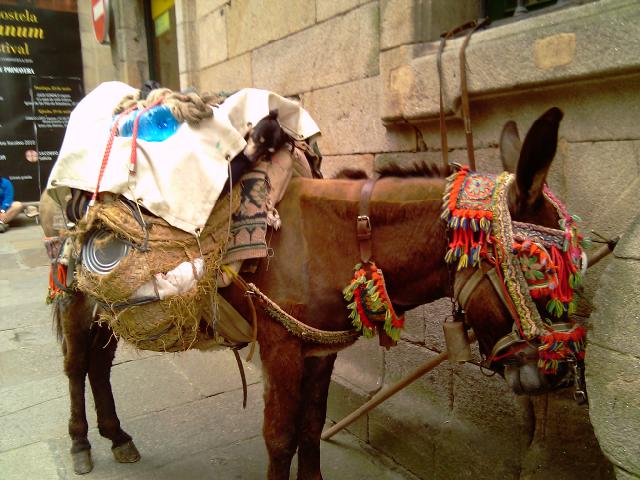 May 30 Sunday.
We decide that since we only have about 12km to go to Santiago we only need to start at 0700, it is not to be, the whole albergue is moving by 0500, and for a change we are last out at about 0600. We place the key in the box for post next to the door as instructed, this is opposite the Redstart's nest under the porch with at least three hungry young being fed by the adults. The albergue is small 24+2 disabled beds and was open by the time we arrived at 1300 yesterday, but check in is not until 20-2100hrs.
The route twists and turns trying to stay out of built up areas but with little success and soon we reach the top of a minor hill and get a misty view of Santiago cathedral or was it a pair of fir trees? Soon after we get our morning coffee and croissant in a cafe in the suburbs and by 0930 we are queueing with many others including some seen along the way, to get our Compostella or certificate of completion (or forgiveness of sins). After this we spot a donkey outside laden with pilgrim baggage and soon his owner joins him – we don't know how far they have travelled together.
We then queue again to enter the cathedral by the pilgrims' door at the back, (only open during Holy Year) we expect to enter the whole cathedral by this route and wander round as two years ago. Alas no, this is Holy Year and Sunday, maximum crowd control is on and we are efficiently routed past the statue of St James for a ritual hug and then St. James' relics (that we visited before) and outside again almost before we realise what is happening. We get a brief view from behind the altar of a mass in progress with the massive censer lit with candles, scant reward we feel for our 612km!
While on the subject of miles walked Tony would like to report a fierce rearguard action has won the battle of the boots (the boots have split), they will be disposed of forthwith.
We are very pleased to bump into a number of people we have met along the way including 3 Germans last seen in Portugal on May 11, Roma (the very friendly and helpful Spaniard, sadly almost impossible to communicate with), and Guido (the Italian) and exchange congratulatory hugs for successful completion of the camino. We arrange to meet Guido by the cathedral later for a celebratory drink. So far sadly we have failed to meet up again with Lyn, the Australian lady, Philippe the Francais, nor the Spanish couple we have nicknamed the tattoo twins.
There may or may not be further posts.