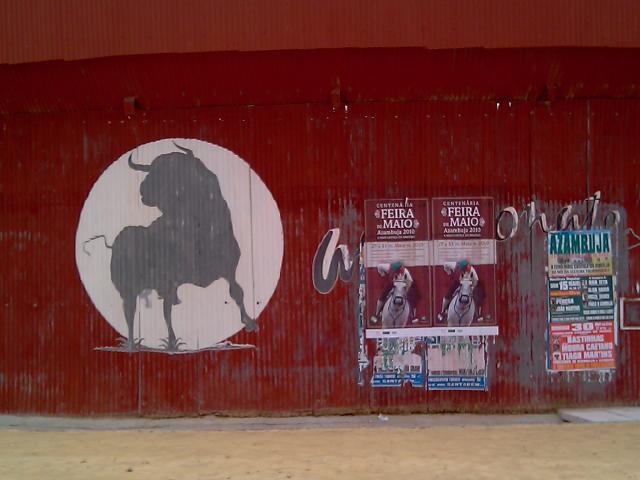 May 7th Friday.
A night in the Pension Ribatejo next to the station, unfortunately! Off in the morning for a days walk through more industrial estates and some fields, almost completely on tarmac and much beside main roads but with reasonably large verges. One benefit of the industrial estates was the many little bars and restaurants, so a cheap supply of coffee was readily available. Once again the day was saved by the wild flowers in bloom along the roadsides.
After only four and a half hours we reach Azambuja 19km from Villa Franca up the bank of the Tagus. Tony has a bolha (portugese for a blister) and Betsy's hips are currently sustained by Voltarol, only Tim so far escapes. We have seen several pilgrims on the route all heading for Fatima the main portugese pilgrimage, and due for a papal visit in four days time. We think this best avoided and our way will part from the Fatima route after tomorrow. They are all in hi vis jackets and are bused back home to Lisbon each day to start again, no this is not some promethean endurance test, simply an organised Catholic church helping its members to flock to Fatima.
Azambuja has a corrida similar to that in Pamplona but in 3 weeks time, they are already putting up the barriers to keep the bulls safe! It also has a restaurant that does an excellent pasta and seafood stew. We found this by accident it had just started to rain.
Another first for the day are the nesting storks, Betsy has not seen these before as they had just flown off in september two years ago. As before they are not only on church towers but radio masts and other high man made structures.
We are in a room for three in a pension again, the bombeiros still await in case of need.