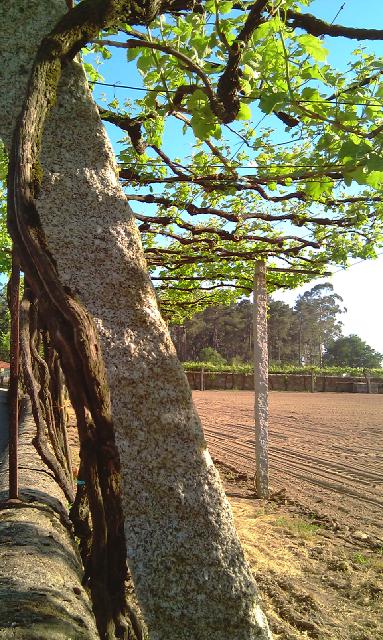 May 22nd Saturday.
We slept ok in the little albergue joined by Guido an Italian and Patricia a Swede, Tim who had been considering sleeping outside due to the heat, was thus able to portray himself as a gentleman and give up his bed as there were only four.
Bedtime was perhaps a little later than we would have wished owing to half the village turning out for a ladies five a side football match on the all weather pitch in our little bit of school grounds.
Still the next day dawned and we set off on a much better day's walking than yesterday. Only one or two lorries too big for the road they were on passed us before we were off into rural portugal again on a mix of cobbled side roads and large granite boulder old ways. The country here is more prosperous looking with few abandoned buildings and well tended fields with little untilled ground. Many of the fields have stone supports for vines built into the old stone walls. We think this arrangement both made good use of available land and provided shade at the sides for field labourers, a reason we find increasingly likely as the day heats up to 33deg C with little wind. We cross a couple of old bridges may be originally roman, who knows? One with a chap off with a pitchfork, presumably to turn the hay in the fields. The gardens seem to contain fewer semi-tropical looking plants, but the roadkill remains interesting with a mole, a toad and another snake added to the already extensive list.
Around 12km or so after starting we reach Rates a town obviously proud of its ancient past, its church while now largely Romanesque and therefore only 12th century replaced one much older and probably an original roman site of worship (which gods are not specified).
Eventually and with much effort in the heat we reach Barcelos having passed most people we saw on the way as they dropped out into barious bars to escape the heat.
Barcelos centre is a nice old medieval town with a bridge over the significant Rio Cavado and a legend about a pilgrim who was saved from hanging by a cockerel who crowed after being cooked. This "miracle" is suspiciously like the legend of the white cock and hen in Santo Domingo on the Camino Frances so probably in the murky past of Iberia there is an element of truth, but who knows. The town is full of effigies of cockerels (mostly modern and plastic) and is in the middle of preparing for a festival. We get a room in the back of the Residential Arantes (the front is 20m from the speakers for tonights performance) right by the Temple of Good Jesus on the main square. We also get a good lunch for 5euros each including vinho, at Restaurant Patrique just round the corner. The square is now a scene! Live music at high volume but as yet 2030 not a huge audience maybe the main bands start at midnight, ah well we are at the back.