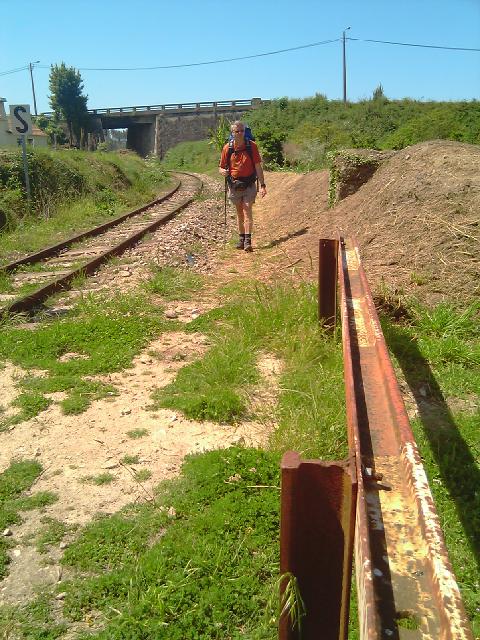 May 18th Tuesday.
We are off a little earlier than previously owing to the increasing heat. By seven we are making our way out of Albergaria with its misleading arrow up the rail track. The way is via a small road – a bit busy but soon turns off into another eucalyptus forest. But reasonably well marked.
The route today involves multiple crossings of a hardly used (we hope) railway track, it weaves its way around the contours we cross finding the easy way, the caminho follows it for a short distance and rejoins it for a passage under a viaduct.
There are many ladies around wielding heavy duty mattocks with enthusiasm in their gardens and smallholdings. Hay making is also on the rural agenda along with watering of vegetables using a weeled vat laboriously filled by one old lady at the roadside tap.
We pass through Bemposta with an old part with some nice old buildings and after a few more up and downs including a crossing of a flood plain on a restored mediaeval (or roman) bridge and causeway reach Oliveira de Azemeis. This may or may not be our finish for the day, Tony"s GPS log suggests 330km (we think it was hot and went via the Azores) Tim's route is a mere 19km, but most importantly Betsy's shinometer says it's ok to continue. We have lunch in a cafe well frequented by locals and probably push up the average age of the clientele by at least 5 years.
Continuing on The Way through the town we pass a roman milestone followed by the mojon – a present to the town from Galicia with one of the few tile scallop shells seen so far, with which we became very familiar 2 years ago. It is 290km to Santiago. Another hark back to Galicia is the appearance of horreos, the grain and food storage buildings on legs with overhangs to stop the rats getting in.
It gets hotter, beer stops become more frequent, we cross the rail tracks several more times and, (somewhat worryingly) hear two trains passing. Whether these are figments of our overwrought imaginations will never be known. The ground seems to be going up and down more frequently. Eventually we reach St Joao da Madeira and find a modern metropolis and with a little difficulty Praca Louis Ribeiro with the residencial. A long day of about 29 genuine km or 400+ on Tony's GPS, and a doubtful 2000m of ascent/descent, but Betsy's shin seems mostly ok.