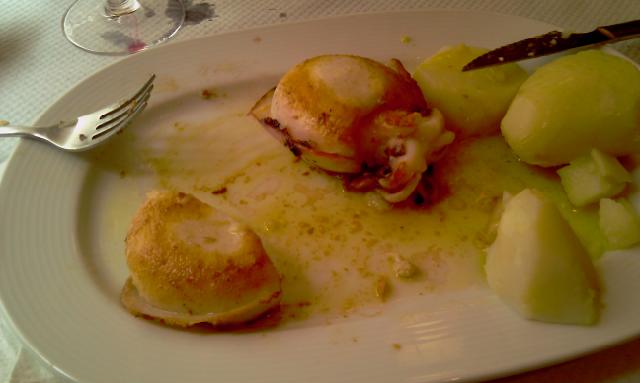 May 25th. Tuesday.
Another light day, but without the hill, however the forecast is for rain. It starts at 4am (Betsy says by 00:00), by 6.30 it has stopped. 100m down the road it starts again we put waterproofs on, it stops. This game continues all morning as we progress across pleasant fields and woods with a few old (roman)bridges and parts of the Via Romana XIX (a roman main road). Betsy spots a salamander out for a walk in the rain, he seems happier than most of the other locals. After a while we arrive at Valenca on the Rio Minho which is the border with Spain, this has a walled part with impressive defence walls, Tim seems to remember there was a battle during Wellington's peninsular campaign but he's probably wrong. We enter a small but well defensible gate and the skies open a good excuse for a beer. After we pass – the roman milestone dedicated to Claudius and find with some difficulty the steps down to the two level bridge (railway on top, road below). And so pass to Spain.
We find our first Spanish albergue which is already open at 2pm despite the book saying that it wouldn't be open until 5pm. check in and go for a superb lunch, starter, more main course than you can eat, pudding and wine. all for just 8€. A brief siesta followed lunch, then a visit to the cathedral seemed essential. We admired the cloisters during a downpour that made the gargoyles earn their keep. The view from the tower was good despite the weather and we were reminded of the general Spanish disregard for health and safety while walking around the tower top with no protective railings!
This evening we meet Lyn the Australian and have a pleasant evening im a bar with s jug of Vinho mucho collapso.