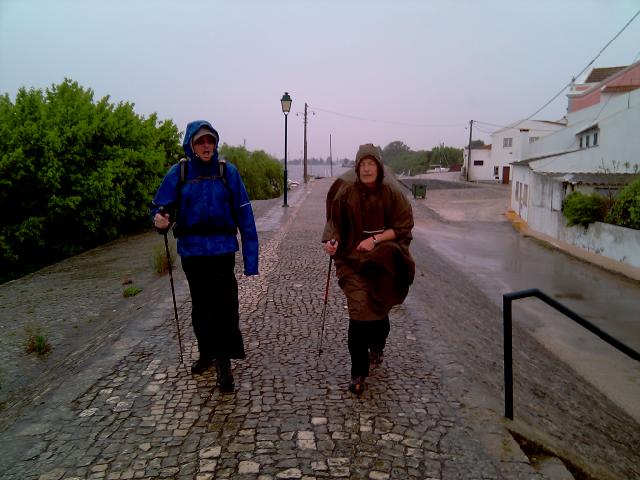 Saturday 8th May.
The weather forecast today is for rain, we start at 0730 and have breakfast in the town picnic site. (orange juice and cake purchased yesterday). Our route then zig zags across the fertile alluvial plain of the Tagus including a section on a well preservrd Roman road until we encounter a large earth bank and a road running north. The GPS informs us the river is on the other side of it, it is a levee protecting the fields and homes from the annual floods. We walk along a track largely following the levee past fields with egrets and large acreages of newly planted tomatoes. It starts to rain not very hard but quite persistantly. This continues most of the day with occasional short breaks. We are over flown by a black kite who looks wet too. There are two welcome breaks for coffee but we trudge on through the fields past large horse ranches getting a look in the distance at the machine that plants seedling tomatoes and lays irrigation pipeing at the same time, Betsy is impressed.
we pass a marker post showing the height of previous floods. february 1979 deemed to be the highest at 1.9m.
All good things must end and eventually by half past two after 30km we reach Omnios a little village at the foot of the hill up to Santarem. We enter the Restaurant Forcado.concerned we may be too late to eat, we are tired, wet and hungry the last of these is rapidly sorted by the very friendly mother and son already serving a collection of locals. there is a large bulls head attached to the wall with bull fighting memorabilia on every available surface. We get bread, olives and cheese as starters with a litre of local red wine, and a mixed grill with enough meat for six plus salad and rice and beans and then coffee for thirty euros for the three of us.
We now don't care about the hill but it takes over an hour to find a room. Availability is a problem perhaps things will improve when we leave the route to Fatima tomorrow.
A day of chaves, chuva, romans and darts. Betsy once again a source of great mirth when trying to break and enter the ladies without first requesting the chave – key, then at the next coffee stop becoming a target for the local darts players. Many comments along the way from locals about the unpleasant chuva – rain.