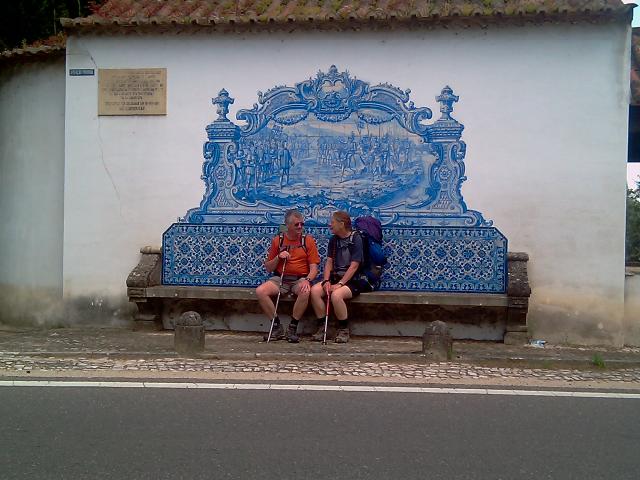 May 10th Monday.
We rise and are given a farewell coffee by the ample portuguese owner. The day is forecast to be fine but is at this hour attractively misty. We pass the old royal summer palace at Quinta Cardiga in a sad state of dilapidation. We are unsure of the length of the walk today as our two guide books differ substantially and one admits to becoming lost twice in eucalyptus forest. The day clears and although rain threatens it never actually happens. We negociate the forests in fine style GPS combined with 50year old maps sourced off the internet by Tony plus occasional yellow arrows (not a lot to put them on in fairness) see us through. We have left the flat plains of the Tagus and although the hills are not high we notch up 1000m of up and down according to the GPS (we suspect it of exaggeration). A good lunch in the backroom of a bar at 20??? for the three of us including a litre of red wine and coffees is the best deal we've had yet. Menu options selected included rabbit, fish and a veal stew.
Not a good bird day only one stork though the charms of goldfinches are worthy of note being duskier than ours at home.
We march into Tomar in fine style stopping briefly at a 14thC remainder of a little church and have no difficulty locating the recommended lodging and get a room for the three of us for 45 euros, including breakfast. No need for a supermercado today! We discover that we have missed a Grand Festival of soup by one day, what a pity!
We also miss a chance to visit the Templar castle for after showers and recovery we climb the steep cobbled ascent to it to find it closing, the gates are shut on us with a truly medieval crash and locked with a key worthy of the Bastille in its heyday.